The 2015 Long Beach ePrix, otherwise officially known as the 2015 FIA Formula E Long Beach ePrix, was the sixth round of the inaugural 2014/15 FIA Formula E Championship, hosted on 4 April 2015 at the Long Beach Street Circuit in Long Beach, California, USA.[1] FE's first visit to Long Beach would see the field use a shorter version of the Grand Prix circuit, which had been specifically revised for FE's needs.[1]
Qualifying would see Daniel Abt claim a maiden pole position for himself and Audi Sport ABT, after Sébastien Buemi saw his fastest time deleted for exceeding the maximum power usage.[2] Championship leader Nicolas Prost would therefore start second ahead of Nelson Piquet Jr. and Lucas di Grassi, while quali-specialist Jean-Éric Vergne would start from fifth alongside his teammate Scott Speed.[2]
It was Piquet whom made the best getaway at the start of the race, sprinting inside Abt into the first corner to snatch an early lead.[3] Behind, the entire field crammed into the first corner, resulting in Sam Bird removing himself from the race by hitting the back of Buemi.[3]
Piquet would try and sprint clear during the early stages, although his attempts would be hindered by the first appearance of the BMW Qualcomm i8 safety car on lap four.[3] The cause would be Speed, whose car had launched itself into the barriers after the American racer hit the kerb at the chicane at a poor angle.[3]
Piquet duly aced the restart to pull clear of Abt at the start of lap seven, with Vergne using FanBoost to pass Prost for third.[3] Indeed, there would be a lot of fighting throughout the field for the following laps, until Charles Pic took Jarno Trulli out of the race, bringing out the safety car once again.[3]
Yet again it was Piquet whom dominated the restart, sprinting clear for the third time to build an unassailable lead before the stops.[3] A subsequently flawless stop by the China Racing squad left the Brazilian with a sizeable advantage over Vergne, whom had jumped Abt during the stops.[3]
With that the race was run, Piquet cruising home almost two seconds clear of Vergne to emulate the exploits of his father, Nelson Piquet Sr., by winning his first race at Long Beach, almost 35 years to the day that his father had done so in Formula One.[3] Behind Vergne came di Grassi, whom moved back to the top of the Championship, a point ahead of Piquet, while Prost only picked up a couple of points for setting the fastest lap.[3]
Background
Three weeks after the FIA Formula E Championship made its North American debut in Miami, the circus rolled into Long Beach on the West Coast for its second race in the US.[4] Indeed, the FE field would be using a variation of the legendary Long Beach Street Circuit, host of Indy Car and, historically, Formula One.[1] The circuit would be shortened for FE's visit, however, with a chicane added along Shoreline drive, and a shortcut through to Seaside Way included to cut out the loop around the fountain.[1]
Arguably the biggest news between the Miami and Long Beach ePrix would be the results of the FIA Anti-Doping Committee investigation into Franck Montagny's failed drugs test after the 2014 Putrajaya ePrix.[5] The investigation revealed that Montagny had tested positive for the banned substance Benzoylecgonine, a byproduct associated with taking cocaine, with Montagny conceding that he was guilty.[5] As a result, Montagny was retroactively disqualified from the results of the Putrajaya ePrix, and banned from all FIA competitions for two years from the 27 March 2015.[5]
Regardless of Montagny's ban, the entry list for Long Beach remained the same as it had been in Miami, the first time all season that the grid was the same for consecutive ePrix.[6] Indeed, Charles Pic was officially listed as a driver for China Racing, while Loïc Duval was given permission by Audi to complete the season with Dragon Racing.[6] Elsewhere, Scott Speed was retained by Andretti Autosport, meaning they were unchanged for the first time, while Vitantonio Liuzzi confirmed that he would complete most of the remainder of the season with Trulli.[6]
Miami Mitigation
Into the Championship and it was Nicolas Prost, fresh from his maiden FE victory in Miami, whom arrived in Long Beach atop the title standings, holding a seven point advantage over Lucas di Grassi. Sam Bird was next up in third, eight points behind the di Grassi and three ahead of Nelson Piquet Jr., whose recent podium run was ended in Florida. Sebastien Buemi remained in contact with team mate Prost, the gap between them 24 points, with Antonio Felix da Costa, six points further behind, meaning the top six were separated by 30 points, with a maximum 30 available in Long Beach.
Prost and Buemi's good scoring runs meant e.dams-Renault led the way in the Teams Championship ahead of the Long Beach ePrix, having become the first team to score over 100 points (110 in total). Second place was being closely fought between Audi Sport ABT and Virgin Racing, with the German's on top by a single point, but now 31 behind the Frenchmen. Andretti, meanwhile, brought a small advantage over Dragon Racing to Long Beach in their battle to be the best placed American team.
Entry List
The full entry list for the 2015 Long Beach ePrix is displayed below:
Practice
In the build up to the 2015 Long Beach ePrix, it was announced that there would be three practice sessions instead of the normal two.[8] Each session was to be 25 minutes long, held from 8:00 to 11:00 on the morning of the meeting, after FIA deemed it necessary to modify the schedule due to the distance between the paddock area and the track.[8]
FP1
FP2
FP3
Qualifying
The Qualifying Groups for the 2015 Long Beach ePrix were announced in between Practice two and Practice three, with the 20 cars separated into four groups of five randomly.[9] Qualifying was scheduled to start at 12:00 local time, with each group getting ten minutes to set a time.
Group 1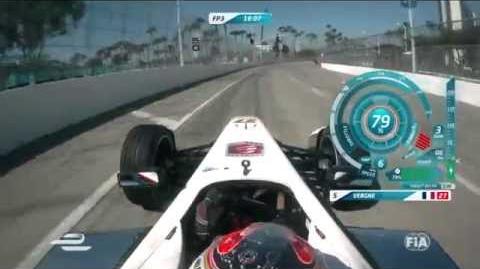 Jean-Eric Vergne and Andretti Autosport team mate Scott Speed were first to be drawn on track, with Charles Pic, Jaime Alguersuari and Nick Heidfeld joining them.[9] Vergne's heavy crash in the second practice session meant that he would qualify without the luxury of knowing that his team could repair his Spark-Renault SRT_01E in time, with his second car still being repaired.
A tight but clean first session in qualifying saw Vergne beat team mate Speed by half a tenth of a second, with many predicting that they would be favourites for pole position anyway.[2] Only three tenths off of the Andretti cars were the rest of the group, with Heidfeld sat in between Alguersuari and Pic.[2] Yet, that gap would prove to be too big, with that trio taking fourteenth through to sixteenth in the final standings.[2]
Group 2
Championship leader Nicolas Prost was drawn into the second qualifying group, joined by Loïc Duval, Jarno Trulli, Bruno Senna and the second Virgin of Sam Bird.[9] Practice pace and form suggested that Prost and Bird should top the group, with Prost a potential (and previous) pole sitter. Duval, Trulli and Senna were therefore expected to be in a battle with the last three from the first group.
A good lap by Prost saw him fulfill his potential speed, becoming the first man to break the 57.000 second barrier.[2] His time looked unbeatable, with Bird the closest in the group, four tenths behind, followed by Senna and Trulli (all three separated by little more than a tenth).[2] Duval rounded off the group, ending the session seventeenth overall, but within a second of the eventual pole time.[2]
Group 3
The third group was to see the Amlin Aguri duo of Salvador Duran and António Félix da Costa take to the track, joined by Lucas di Grassi, Stéphane Sarrazin and Nelson Piquet, Jr..[9] di Grassi's pace had been nothing short of dominant in practice, topping two sessions by over three tenths, with Piquet the only man preventing him from making it a clean sweep in practice. Sarrazin, Duran and da Costa would be looking to improve on their previous best qualifying results in what was quickly becoming one of the tightest qualifying sessions in Formula E's short history.
Despite his practice pace however, di Grassi failed to top Prost's time, missing out by 0.146s.[2] He was beaten by Piquet, who took second behind Prost by becoming only the second man all weekend to get into the 56 second zone.[2] Da Costa also impressed, just shy of splitting the two Andretti cars, despite his fastest time later being disallowed for excessive energy use.[10] Sarrazin crept into the top ten with his fastest time, while Duran rounded off those who set a time within 110% of the pole time, meaning he would start 19th.
Group 4
The final group was composed of Daniel Abt, Vitantonio Liuzzi, Jérôme d'Ambrosio, Sébastien Buemi and Karun Chandhok.[9] Like Vergne, Abt was under pressure not to damage his car, with his second SRT_01E still being repaired after his accident in first practice. Buemi was an outsider for pole, although he was one of only three men to have achieved the feat in Formula E history, with Liuzzi, Chandhok and d'Ambrosio hoping to beat their previous qualifying results.
The final group was the only one to see any problems at all, after Liuzzi slid wide at the exit of turn five on his first flying lap, smacking into the wall.[2] After limping through turn six, Liuzzi parked his heavily damaged Trulli machine infront of an ambulance on the run-off at turn seven, with a red flag being thrown to recover his car, despite it being in an area generally percieved to be safe.[2]
Regardless, Abt responded well to the break, claiming provisional pole on his second flying lap with a time of 56.937, beating Prost by 0.007s.[2] Yet it was Buemi who stole the show by finding an extra tenth of a second to take his second pole of the season, or so it seemed.[2] After qualifying, Buemi was found to have exceeded the maximum power usage on his fastest lap, meaning that time was disallowed, dropping him down to tenth, and putting Abt on pole for the first time.[10]
Post Qualifying
The final qualifying results for the 2015 Long Beach ePrix are outlined below:
2015 Long Beach ePrix Qualifying Result

Pos.

No.

Name
Team
Time
Gap
Grid
Group
1st
66
Daniel Abt
Audi Sport ABT
0:56.937
—
1
G4
2nd
8
Nicolas Prost
e.dams-Renault
0:56.944
+0.007s
2
G2
3rd
99
Nelson Piquet Jr.
China Racing
0:56.974
+0.037s
3
G3
4th
11
Lucas di Grassi
Audi Sport ABT
0:57.083
+0.146s
4
G3
5th
27
Jean-Éric Vergne
Andretti Autosport
0:57.106
+0.169s
5
G1
6th
28
Scott Speed
Andretti Autosport
0:57.156
+0.219s
6
G1
7th*
55
António Félix da Costa
Amlin Aguri
0:57.182
+0.245s
7
G3
8th
7
Jérôme d'Ambrosio
Dragon Racing
0:57.184
+0.247s
8
G4
9th
30
Stéphane Sarrazin
Venturi Formula E Team
0:57.261
+0.324s
9
G3
10th*
9
Sébastien Buemi
e.dams-Renault
0:57.288
+0.351s
10
G4
11th
2
Sam Bird
Virgin Racing
0:57.304
+0.367s
11
G2
12th
21
Bruno Senna
Mahindra Racing
0:57.347
+0.410s
12
G2
13th
10
Jarno Trulli
Trulli Formula E Team
0:57.417
+0.480s
13
G2
14th
3
Jaime Alguersuari
Virgin Racing
0:57.449
+0.512s
14
G1
15th
23
Nick Heidfeld
Venturi Formula E Team
0:57.508
+0.571s
15
G1
16th
88
Charles Pic
China Racing
0:57.818
+0.881s
16
G1
17th
6
Loïc Duval
Dragon Racing
0:57.905
+0.968s
17
G2
18th
5
Karun Chandhok
Mahindra Racing
0:57.921
+0.984s
18
G4
19th
77
Salvador Duran
Amlin Aguri
0:57.950
+1.013s
19
G3
110% Time: 1:02.630[7]

NC

†
18
Vitantonio Liuzzi
Trulli Formula E Team
1:12.813
+15.886s
20
G4
Source:[7]
* Buemi and da Costa's fastest times were removed after qualifying for exceeding the maximum power allowance (200 kW).[10]
† Liuzzi would start at the steward's discretion having failed to set a time under the 110% time allowed.[2]
Race
With Sébastien Buemi judged to have exceeded the maximum power usage on his fastest lap, Daniel Abt became the first non-French speaker to take pole position at an ePrix, joined by championship leader Nicolas Prost on the front row.[3] Around half an hour before the race, Sam Bird, Jean-Éric Vergne and Nelson Piquet Jr. were announced as the FanBoost winners for the race, gaining two bursts of extra power for 5 seconds.[11]
Report
A clean start for Piquet amid a mass of squealing tyres gave him a clear run up the inside of Abt into the first corner, meaning the Brazilian leapt into the lead from third on the grid.[3] Further behind, however, the field was bunched together into the chicane, with many cars simply cutting across the wide tarmac run off.[3] Yet, in the confusion, there would be one victim as Bird was forced into the back of Buemi, breaking his suspension and leaving the Brit to limp to the pits.[3] Bird rejoined in the second car, aiming to set fastest lap before entering retirement, a feat he achieved on lap 13, although he retired well before the conclusion of the race, unable to defend his time.
Piquet was quick to build a lead at the front, with Abt defending from Prost, Vergne and Lucas di Grassi, with Scott Speed keeping tabs on them.[3] Yet, by lap four, the BMW Qualcomm i8 Safety Car made its first appearance of the day, with the home town man, Speed, in the wall.[3] After locking up the rear left wheel into the first part of the chicane, Speed hit the curb on the inside of the second part, launching his car into the air and into the barrier.[3] It took until lap six for the lights to go out on the Safety Car, while the announcement came through that no further action would be taken over the first corner incidents.[12]
With the field bunched back up again, and Speed's car speedily removed, Piquet regained the initiative when the i8 left the circuit.[3] Vergne also took advantage of the restart, using his FanBoost to sprint past Prost in the run up to the first chicane and take third, with numerous moves up and down the field.[3] Prost would lose out to di Grassi too on the run up to turn three, the Brazilian successfully fending off a counter challenge from the Frenchman into turn four.
An interesting battle emerged between António Félix da Costa (whom lost ground trying to pass Buemi after the restart), Jérôme d'Ambrosio and Nick Heidfeld, with the Dragon Racing man trying a bold move around the outside of the Amlin Aguri at turn six.[12] Unfortunately for d'Ambrosio, he slid ever wider, although he managed to keep in front of the looming Heidfeld and hold on to eighth at the final hairpin.[12] Yet, their battle backed up the field behind them, with Charles Pic slamming on the brakes to try to overtake Loïc Duval into the hairpin.[12] Pic, who was later penalised for the dangerous move, T-boned the rear right of Jarno Trulli's car, putting the Italian driver out of the race, and Pic in the pits.[12]
The Qualcomm i8 emerged once more, staying out for another three laps or so as the aftermath of Pic's misjudgement could be cleared away.[3] Another simple get away from Piquet saw him establish a lead, and one which he would keep until the stops, while Abt was drawn into a battle for second, with Vergne and team mate di Grassi.[3] Further back, Prost quickly lost out to Buemi on the restart, with da Costa making a bold statement by sliding up the inside of the Championship leader into the hairpin a few turns later.
Prost was later challenged by d'Ambrosio, with the Belgian also finding a way past, only for Prost to give him a touring car-esque tap into the hairpin in an attempt to retake the position.[3] Meanwhile, the race at the front became tactical, with Abt coming into the pits first on lap 22, although his plan would not workout due to the minimum 82 second pitstop time, which meant that he had to wait as the rest of the field stopped a lap later.[12] On track, meanwhile, Duval and Salvador Duran were battling hard over the last points position when both went sliding out of turn five.[12] Duval held on to a sharp twitch that threw his car sideways, while Duran held his car in a slide to just miss the wall, despite the fact that there had been no contact between the pair into the turn.[12]
After the pitstops, Piquet would dominate the rest of the race, remaining unchallenged although unable to beat Bird's fastest lap. Vergne established a gap in second after Abt fell down the order (a penalty ending his points challenge after using too much energy), leaving third place as a battle between di Grassi and Buemi, while two names of legendary status did battle over fifth.[3] Bruno Senna sold a dummy to Prost into turn four, grabbing the position before Prost began to plummet down the order once more.
Late drama saw Heidfeld end up in the tyre barrier on the outside of turn five, losing his rearwing after moving across d'Ambrosio in the braking area.[12] Heidfeld would complete the remaining two laps to finish eleventh, with d'Ambrosio continuing unharmed for sixth.[3]
But, at the front, a sense of deja vu came across Long Beach, as almost 35 years to the day, Nelson Piquet, Jr. came across the line to win his first ePrix at the same circuit that his father won his maiden Grand Prix victory in 1980.[3] Vergne remained in second to take his first podium of the year, while di Grassi kept Buemi at arms length for third, returning to the top of the Championship by just a single point from Piquet.[3] Prost, meanwhile, had tumbled to fourteenth, although he took fastest lap from Bird with only a handful of laps to go, meaning he picked up two points to keep his tally ticking over.
Result
The final classification of the 2015 Long Beach ePrix is displayed below, with the fastest lap setter indicated in italics, and the pole sitter shown in bold.
2015 Long Beach ePrix Race Result

Pos.

No.

Name
Team
Laps
Race Time
Fastest lap

Pts.

1st
99
Nelson Piquet Jr.
China Racing
39
46:01.971
0:59.400
25
2nd
27
Jean-Éric Vergne
Andretti Autosport
39
+1.705s
0:59.574
18
3rd
11
Lucas di Grassi
Audi Sport ABT
39
+2.994s
0:59.731
15
4th
9
Sébastien Buemi
e.dams-Renault
39
+3.518s
0:59.610
12
5th
21
Bruno Senna
Mahindra Racing
39
+8.844s
0:59.459
10
6th
7
Jérôme d'Ambrosio
Dragon Racing
39
+13.460s
0:59.530
8
7th
55
António Félix da Costa
Amlin Aguri
39
+16.171s
0:59.530
6
8th
3
Jaime Alguersuari
Virgin Racing
39
+17.975s
0:59.631
4
9th
6
Loïc Duval
Dragon Racing
39
+18.436s
0:59.239
2
10th
30
Stéphane Sarrazin
Venturi Formula E Team
39
+20.418s
0:59.768
1
11th
23
Nick Heidfeld
Venturi Formula E Team
39
+21.326s
0:59.791
12th
5
Karun Chandhok
Mahindra Racing
39
+32.917s
1:00.133
13th
18
Vitantonio Liuzzi
Trulli Formula E Team
39
+38.592s
0:59.956
14th
8
Nicolas Prost
e.dams-Renault
39
+42.375s
0:58.983
2
15th
66
Daniel Abt
Audi Sport ABT
39
+44.361s
0:59.747
3
16th
88
Charles Pic
China Racing
39
+58.125s
0:59.379

Ret

77
Salvador Duran
Amlin Aguri
27
Retired
1:00.252

Ret

2
Sam Bird
Virgin Racing
22
Damage
0:59.241

Ret

10
Jarno Trulli
Trulli Formula E Team
7
Accident
1:01.409

Ret

28
Scott Speed
Andretti Autosport
3
Accident
1:00.810
Source:[7]
Indicates a driver was awarded FanBoost during the race.
Milestones
Standings
Nelson Piquet Jr.'s maiden FE victory made it six different winners from the first six ePrix, and saw him leap to second in the Championship, just one point off the lead. Lucas di Grassi was the man at the summit, after Nicolas Prost's poor weekend saw him fall to third. Sam Bird and Sébastien Buemi remained within touching distance, while António Félix da Costa held on to sixth to ensure all six winners were in the top six.
e.dams-Renault saw their lead trimmed by Audi Sport ABT, although they would need both di Grassi and Daniel Abt to have a strong weekend to seriously close the gap. Virgin Racing were beginning to fall off the pace, with Andretti Autosport (with a seemingly stable driver line-up) closing to within two points. Venturi, meanwhile, had retained their place at the foot of the table, remaining the only team yet to reach a double figure tally.
2014/15 Drivers' Championship

Pos.

Name

Pts.

+/-

1st
Lucas di Grassi
75
▲1
2nd
Nelson Piquet Jr.
74
▲2
3rd
Nicolas Prost
69
▼2
4th
Sébastien Buemi
55
▲1
5th
Sam Bird
52
▼2
6th
António Félix da Costa
43
◄0
7th
Jérôme d'Ambrosio
42
◄0
8th
Jean-Éric Vergne
32
▲7
9th
Jaime Alguersuari
30
▼1
10th
Bruno Senna
28
▲3
11th
Daniel Abt
22
▼2
12th
Franck Montagny
18
▼2
13th
Scott Speed
18
▼2
14th
Karun Chandhok
18
▼2
15th
Oriol Servià
16
▼1
16th
Jarno Trulli
12
◄0
17th
Charles Pic
12
◄0
18th
Loïc Duval
8
◄0
19th
Nick Heidfeld
5
◄0
20th
Stéphane Sarrazin
4
◄0
21st
Takuma Sato
2
◄0
22nd
Salvador Duran
1
◄0

2014/15 Teams' Championship

Pos.

Name

Pts.

+/-

1st
e.dams-Renault
124
◄0
2nd
Audi Sport ABT
97
◄0
3rd
Virgin Racing
82
◄0
4th
Andretti Autosport
80
◄0
5th
China Racing
74
▲1
6th
Dragon Racing
66
▼1
7th
Amlin Aguri
46
◄0
8th
Mahindra Racing
46
◄0
9th
Trulli Formula E Team
12
◄0
10th
Venturi Formula E Team
9
◄0
Only point scoring drivers are shown.
References
Vidoes and Images:
References:
↑ 1.0 1.1 1.2 1.3 'Calendar: 2015 Long Beach ePrix', fiaformulae.com, (FIA Formula E, 2015), http://www.fiaformulae.com/en/calendar/2015-long-beach.aspx, (Accessed 28/04/2015)
↑ 2.00 2.01 2.02 2.03 2.04 2.05 2.06 2.07 2.08 2.09 2.10 2.11 2.12 2.13 2.14 'Buemi clinches pole in Long Beach', fiaformulae.com, (FIA Formula E, 04/04/2015), http://www.fiaformulae.com/en/news/2015/april/buemi-clinches-pole-in-long-beach.aspx, (Accessed 28/04/2015)
↑ 3.00 3.01 3.02 3.03 3.04 3.05 3.06 3.07 3.08 3.09 3.10 3.11 3.12 3.13 3.14 3.15 3.16 3.17 3.18 3.19 3.20 3.21 3.22 3.23 3.24 3.25 'Emotional Piquet emulates his father', fiaformulae.com, (FIA Formula E, 04/04/2015), http://www.fiaformulae.com/en/news/2015/april/piquet-cruises-to-victory-in-long-beach.aspx, (Accessed 28/04/2015)
↑ 'Formula E to race in Moscow', fiaformulae.com, (FIA Formula E, 03/02/2015), http://www.fiaformulae.com/en/news/2015/february/formula-e-to-race-in-moscow.aspx, (Accessed 30/04/2015)
↑ 5.0 5.1 5.2 'Franck Montagny disqualified from Putrajaya ePrix', fiaformulae.com, (FIA Formula E, 27/03/2015), http://www.fiaformulae.com/en/news/2015/march/franck-montagny-disqualified-from-putrajaya-eprix.aspx, (Accessed 28/04/2015)
↑ 6.0 6.1 6.2 'Unchanged grid in Long Beach', fiaformulae.com, (FIA Formula E, 31/03/2015), http://www.fiaformulae.com/en/news/2015/march/unchanged-grid-in-long-beach.aspx, (Accessed 28/04/2015)
↑ 7.0 7.1 7.2 7.3 'Round 6 - Long Beach ePrix: Results Booklet', fiaformulae.alkamelsystems.com, (FIA Formula E, 2015), http://fiaformulae.alkamelsystems.com/Results/00_2014-15/07_Long%20Beach/62_FIA%20Formula%20E%20Championship/201504042100_Long_Beach_Booklet.pdf, (Accessed 30/07/2018)
↑ 8.0 8.1 'Three practice sessions for Long Beach ePrix', fiaformulae.com, (FIA Formula E, 25/03/2015), http://www.fiaformulae.com/en/news/2015/march/three-practice-sessions-for-long-beach-eprix.aspx, (Accessed 28/04/2015)
↑ 9.0 9.1 9.2 9.3 9.4 'Long Beach ePrix: Qualifying groups', fiaformulae.com, (FIA Formula E, 04/04/2015), http://www.fiaformulae.com/en/news/2015/april/long-beach-eprix-qualifying-groups.aspx, (Accessed 28/04/2015)
↑ 10.0 10.1 10.2 'Buemi loses Long Beach pole', fiaformulae.com, (FIA Formula E, 04/04/2015), http://www.fiaformulae.com/en/news/2015/april/buemi-loses-long-beach-pole.aspx, (Accessed 28/04/2015)
↑ 'Bird, Vergne and Piquet win FanBoost vote', fiaformulae.com, (FIA Formula E, 04/04/2015), http://www.fiaformulae.com/en/news/2015/april/bird-vergne-and-piquet-win-fanboost-vote.aspx, (Accessed 28/04/2015)