Andretti Formula E
Team Information
Based
Indianapolis, Indiana
Début
2014 Beijing ePrix
Founder
Michael Andretti
Key People
JF Thorman, Kyle Moyer, John Lopes
Driver(s)
Alexander Sims (No.27)
Maximilian Günther (No.28)
António Félix da Costa
Jean-Éric Vergne
Robin Frijns
Simona de Silvestro
Car

BMW iFE.20

Sponsor(s)
Website
Andretti Formula E
Team Stats
Last Season
5th (156 pt(s))
Entries
58
Wins
1
First Win
2018 Ad Diriyah E-Prix
Points
382
Poles
5
Podiums
10
Fastest Laps
1
Titles
0 (5th 2018/19)
Current Season
Entrant
BMW i Andretti Motorsport
Maximilian Günther
Alexander Sims
16th (66 Pt(s))
19th (54 Pt(s))
Team Standings
6th (157 Pt(s))
Andretti Formula E, one of a number of Andretti Autosport associated racing teams, are an entrant in the 2019/20 ABB FIA Formula E Championship and one of the series' founding members.[1][2] Having previously partnered Stéphane Sarrazin with FE race winner António Félix da Costa, Andretti fielded their own car in two seasons of FE, built by sister company Andretti Technologies, before entering a partnership with BMW for Season Five.[3][4]
From 2018/19 the Andretti entry in FE would be largely taken over by BMW, although the two entities would start in partnership with a new entry named BMW i Andretti Motorsport.[4] The German manufacturer also took control of the team's entry, retaining da Costa as well as bringing in fellow BMW factory driver Alexander Sims.[5]
BMW-Andretti's maiden FE campaign would be a mixed one, with da Costa claiming victory at the season opening round in Ad Diriyah, only for a mix of poor reliability and misfortune to ruin their title ambitions.[6] da Costa subsequently left the team after losing his factory contract with BMW, prompting them to hire Maximilian Günther to partner Sims for 2019/20.[1]
Background
Andretti Autosport was officially formed in 2009, but had its origins in Barry Green and Gerry Forsythe's team (Forsythe Green Racing) from 1993.[7] After various evolutions of the team, Andretti Autosport emerged with Michael Andretti at the head, competing in Indy Car.[2] Andretti Autosport hold four Indy Car titles, one USF2000 Championship and two Indianapolis 500 titles.[2]
Formula E History
Andretti Autosport were the first team to be announced for the championship that were based in the United States.[2] Montagny was the first driver to be announced for the team, with various others testing for the team, including Scott Speed and Gil de Ferran.[2] Charles Pic joined his compatriot in Beijing with the pair taking second and fourth respectively in the first race. Pic missed the next few races due to other commitments, meaning he was replaced by Matthew Brabham in Putrajaya and Punta del Este, while Montagny missed the Urugyian race through illness, replaced by Jean-Éric Vergne.
Then over the winter break between Punta del Este and Buenos Aires it was announced that Montagny had been suspended after failing a drugs test in Putrajaya.[8] Montagny was dropped by the team, with Marco Andretti joining the team, replacing Brabham as the main driver in their second pair of cars. At the 2015 Miami ePrix, Andretti announced their sixth different driver for the season, with Scott Speed replacing Marco for the race. Vergne took his second pole position of the season, but would be beaten by his debuting teammate, who claimed second and narrowly missed out on victory.[9]
Speed stayed with the team until the 2015 Moscow ePrix, where he was replaced by Justin Wilson, with the Brit taking tenth place during his debut.[10] The Brit had just one chance, however, with Simona de Silvestro taking the second cars for the season finale in London.[11] An impressive debut saw her out-qualify team mate Vergne (somewhat a qualifying specialist with three poles to his name), but was unable to take points.[12]
Second Helping
Andretti founded Andretti Technologies to cater for their development of the Spark-Renault SRT_01E into the second season, ultimately unveiling the new ATEC-01.[13] A few days later, their driver line up for 2015/16 was revealed, with Jean-Eric Vergne partnered with Simona de Silvestro, who had raced together in London.[14] A day later, and Andretti unveiled their new blue livery, courtesy of a major sponsorship deal with Amlin, who had previously sponsored Team Aguri during 2014/15.[15]
However, the ATEC-01 proved to be too unreliable during the 2015 Donington Test, while Vergne left the team to join DS Virgin Racing. Their bad summer continued with news that their IndyCar Series and one time Formula E driver Justin Wilson died in a race in America, while their new car continued to run poorly.[16] They opted to switch to Season One technology (i.e. the Spark-Renault SRT_01E) for the final day of the test, while also signing Robin Frijns to replace the outgoing Vergne.[17]
With year old cars, relatively inexperienced drivers and very little running, Andretti's season was pretty much written off from the start. Yet, Frijns seemed to have other ideas, and at the 2015 Putrajaya ePrix the Dutchman shocked the entire paddock by putting the year old car onto the podium, demonstrating the benefit of using proven technology.[18] Yet, that would be the team's only real triumph of the season, with Frijns scoring minor points for the rest of the season, while de Silvestro took until the 2016 Long Beach ePrix to finally get her name on the board.[19]
Andretti Attack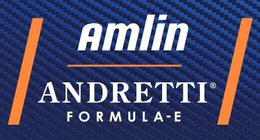 With 2015/16 a write off, Andretti threw their full weight at ensuring that their challenger for season three would go to the 2016 Donington Test and actually get out on circuit.[20] An extensive development programme saw the ATEC-02 cover thousands of kilometres before the public pre-season test, while António Félix da Costa was brought on board to partner Frijns.[21] The Donington Test would go well for the new Andretti, despite the fact that Frijns and da Costa were both in the lower half of the field in outright pace.
The Waiting Game
2017/18 was set to be a transitional year for Andretti, with the team awaiting the impending arrival of BMW at the end of the season to take over their FE interests.[4] As such, the team would retain the services of BMW backed racer da Costa, while dropping Frijns in favour of fellow Bavarian backed racer Tom Blomqvist.[22] However, the latter's debut would be pushed back a couple of races after the pre-season test, with Andretti deciding to give ex-Formula One racer Kamui Kobayashi a run in Hong Kong after a request from their sponsors.[23]
It was, unsurprisingly, the more experienced da Costa whom got the best out of the new Andretti ATEC-03 at the season opening round, the Portuguese ace claiming sixth as Kobayashi failed to score.[24] The pair then both failed to score in the second race, before Blomqvist scored points on his debut in Marrakech, finishing eighth with da Costa fourteenth.[25] Andretti would then field BMW's 2012 DTM Champion Bruno Spengler in the 2018 Rookie Test, although neither he, nor Colton Herta, would perform particularly spectacularly during the one day test.[26]
Back to racing and da Costa recorded two further point scoring finishes in Santiago and Mexico City, as Blomqvist began a dismal run of form.[27] Indeed, the Anglo-Swede would fail to score at all for the rest of the season, with Blomqvist ultimately pulled out of the car after the Paris E-Prix to focus on his World Endurance Championship commitments.[28] Likewise, da Costa would enter a poor run of form after the Mexico City race, with Andretti not registering a points finish until the Portuguese racer finished eighth in Zürich.[29]
That would ultimately be that for Andretti for the season, for da Costa just fell shy of the points in the first New York City E-Prix, having run inside the top ten early on.[30] The Portuguese racer was then well off the pace after a poor qualifying result for the second race, while Sarrazin failed to score at all, finishing both races in twelfth.[31] That result left Andretti Formula E at the foot of the Teams' Championship, while da Costa was their best placed driver in fifteenth.
BMW Backing: 2018/19
The 2018/19 season would see Andretti's interests in FE largely taken over by BMW, with the Bavarian firm making their own powertrain, dubbed the iFE.18.[32] Andretti duly took over the day-to-day running of the team, with BMW factory driver Alexander Sims brought in to partner da Costa for BMW's maiden FE campaign.[5] The duo duly impressed at the 2018 Valencia Test ahead of the season, with da Costa setting the fastest outright time of the test.[33]
As such the BMW-Andretti squad would start the season among the favourites, a distinction duly backed by da Costa as he claimed pole for the season opening 2018 Ad Diriyah E-Prix.[34] The Portuguese racer duly went on to claim victory in the opening race, battling for victory with Vergne until the Frenchman received a penalty, claiming the first FE triumph for Andretti in their 46th E-Prix.[34] Sims, meanwhile, would finish down at the back of the field on his FE debut, having got caught in fights in the midfield.[34]
Sims would, however, perform very well at the start of the Marrakech E-Prix weekend, getting into Super Pole alongside teammate da Costa.[35] The pair duly made strong starts to battle for the lead early on, with both slipping past Sam Bird early on before easing away en-route to a dominant one-two.[35] That was, until the pair began fighting for the lead in the closing stages, with Sims inadvertently taking da Costa out as they jostled on the brakes, handing a guaranteed victory to Jérôme d'Ambrosio.[35]
That race would ultimately come to define BMW-Andretti's season, with da Costa retiring once again in Santiago, while Sims could only score minor points.[36] da Costa duly bounced back to fight for victory at the 2019 Mexico City E-Prix, ultimately finishing second to di Grassi after a race long scrap with the Brazilian and Pascal Wehrlein, before only claiming a point in Hong Kong having qualified down the order.[37] A third place finish followed in Sanya, da Costa again challenging for victory, only for another poor qualifying run in Rome to cost him more points.[38]
Another anonymous but point scoring display for da Costa followed in Paris, before the Portuguese racer was disqualified from the Monte Carlo E-Prix for using more power than officially allowed when engaging Attack Mode.[39] He duly bounced back to claim fourth in the Berlin E-Prix to keep his title hopes alive, while Sims brought an end to a six race pointless streak which had seen the Brit get involved in three race ending accidents.[40] Yet, a poor run to eleventh and twelfth in the 2019 Swiss E-Prix saw BMW-Andretti's title ambitions come to an end, and would leave da Costa as an outside shot for the title ahead of the season finale in New York City.[41]
Sims duly worked well to help da Costa's bid for the title in the 2019 New York City E-Prix I, backing up the field while running in third to allow the Portuguese ace to fight up the order.[42] Yet, even handing said third place to da Costa was not enough to keep da Costa in the title hunt, meaning the two BMW Andrettis would be out for glory in the season ending race the next day.[6] Sims duly claimed pole position and lead early on, but ultimately had to settle for second and a maiden podium finish after Robin Frijns seized the lead early on.[6]
That podium left BMW-Andretti in fifth in the Championship on 156 points, albeit with a lot of "what-ifs" surrounding their season.[6]
Zweite Zeitgeist?: 2019/20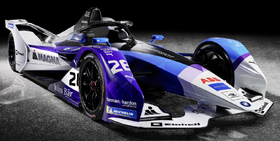 da Costa would ultimately leave the BMW-Andretti squad at the end of the 2018/19 season, having lost his factory BMW seat following their withdrawal from the World Endurance Championship.[43] The Bavarian squad hence opted to replace the Portuguese ace with highly rated youngster Maximilian Günther, partnering him with new team leader Sims in an otherwise unchanged setup.[44] Indeed, Günther would impress his new employers right away, claiming a new circuit record at the 2019 Valencia Test, while also demonstrating very strong race pace throughout said test.[45]
Formula E Record
The tables below show Andretti Formula E's full record in the FIA Formula E Championship.
Formula E Entries
The table below gives an overview of Andretti Formula E's entries in Formula E:
Andretti Formula E's overall Formula E Record
Season
Official name
No.
Drivers

DC Pos.

DC Pts.

Car

TC Pos.

TC Pts.

2014/15
Andretti Autosport
27
Franck Montagny
16th
18

Spark

-

Renault

SRT_01E
6th
119
27
Jean-Eric Vergne
7th
70
28
Charles Pic*
18th
16
28
Matthew Brabham
31st
0
28
Marco Andretti
30th
0
28
Scott Speed
15th
18
28
Justin Wilson
25th
1
28
Simona de Silvestro
27th
0
2015/16
Amlin Andretti Formula E
27
Robin Frijns
12th
45

Spark

-

Renault

SRT_01E
Andretti

ATEC-01

†
7th
49
28
Simona de Silvestro
18th
4
2016/17
MS Amlin Andretti
27
Robin Frijns
13th
24
Andretti

ATEC-02

7th
34
28
António Félix da Costa
20th
10
2017/18
MS&AD Andretti Formula E
27
Kamui Kobayashi†
24th
0
Andretti

ATEC-03

10th
24
27
Tom Blomqvist
20th
4
27
Stéphane Sarrazin
22nd
0
28
António Félix da Costa
15th
20
2018/19
BMW i Andretti Motorsport[46]
27
Alexander Sims[5]
13th
57
BMW

iFE.18

[46]
5th
156
28
António Félix da Costa[5]
6th
99
2019/20
BMW i Andretti Motorsport[1]
27
Alexander Sims[47]
BMW

iFE.20

28
Maximilian Günther[44]
Career Results
Listed below are the full career results of Andretti Formula E:
FIA Formula E Championship Record
Year
Driver
Rounds

Pos.

Pts.

1
2
3
4
5
6
7
8
9
10
11
12
13
14
2014/15
6th
119
Montagny
2nd
DSQ
Pic
4th
Brabham
13th
Ret
Vergne
14th
6th
18th
2nd
NC
7th
4th
3rd
16th
Andretti
12th
Speed
2nd
Ret
12th
13th
Wilson
10th
de Silvestro
11th
12th
2015/16
7th
49
Frijns
10th
3rd
10th
8th
5th
15th
7th
6th
CAN
Ret
Ret
de Silvestro
Ret
13th
11th
14th
14th
9th
15th
9th
CAN
11th
Ret
2016/17
7th
34
Frijns
6th
11th
14th
11th
12th
6th
18th
18th
9th
9th
8th
13th
da Costa
5th
Ret
11th
Ret
11th
Ret
17th
11th
12th
15th
14th
15th
2017/18
10th
24
da Costa
6th
11th
14th
9th
7th
11th
11th
Ret
15th
8th
11th
15th
Kobayashi
15th
17th
Blomqvist
8th
11th
15th
16th
15th
Ret
Sarrazin
20th
14th
12th
12th
2018/19
5th
156
Sims
18th
4th
7th
14th
Ret
Ret
17th
Ret
13th
7th
11th
4th
2nd
da Costa
1st
Ret
Ret
2nd
10th
3rd
9th
7th
DSQ
4th
12th
3rd
9th
2019/20
5th
118
Sims
8th
1st
Ret
5th
Ret
9th
19th
10th
13th
11th
13th
Günther
18th
11th
1st
11th
2ndG
DSQ
Ret
1st
Ret
NC
12th
References
Videos and Images:
References:
↑ 1.0 1.1 1.2 'Full Formula E team names revealed ahead of season opener', fiaformulae.com, (FIA Formula E, 10/09/2019), https://www.fiaformulae.com/en/news/2019/september/full-team-names-revealed-ahead-of-season-opener, (Accessed 10/09/2019)
↑ 2.0 2.1 2.2 2.3 2.4 'Teams: Andretti Autosport', fiaformulae.com, (FIA Formula E, 2015), http://www.fiaformulae.com/en/teams/andretti-autosport.aspx, (Accessed 15/07/2015)
↑ 'Andretti technologies to build Formula E powertrain', fiaformulae.com, (FIA Formula E, 26/06/2015), http://www.fiaformulae.com/en/news/2015/june/andretti-technologies-to-build-formula-e-powertrain.aspx, (Accessed 15/07/2015)
↑ 4.0 4.1 4.2 'Nine manufacturers homologated for Season 5', fiaformulae.com, (FIA Formula E, 21/03/2017), http://www.fiaformulae.com/en/news/2017/march/nine-season-5-powertrain-manufacturers-homologated/, (Accessed 22/03/2017)
↑ 5.0 5.1 5.2 5.3 'BMW takes covers off season five challenger', fiaformulae.com, (FIA Formula E, 14/09/2018), http://www.fiaformulae.com/en/news/2018/september/bmw-takes-covers-off-season-five-challenger/, (Accessed 14/09/2018)
↑ 6.0 6.1 6.2 6.3 'Frijns wins while Vergne claims historic two-time Championship title in New York', fiaformulae.com, (FIA Formula E, 14/07/2019), https://www.fiaformulae.com/en/news/2019/july/race-report-nyc-2-2019, (Accessed 15/07/2019)
↑ 'Ex-F1 driver Franck Montangy tests positive for cocaine derivative', autosport.com, (Haymarket Media, 01/01/2015), http://www.autosport.com/news/report.php/id/117253, (Accessed 25/04/2015)
↑ 'Prost powers to first Formula E win', fiaformulae.com, (FIA Formula E, 14/03/2015), http://www.fiaformulae.com/en/news/2015/march/prost-powers-to-first-formula-e-win.aspx, (Accessed 27/04/2015)
↑ 'Justin Wilson to race for Andretti in Moscow', fiaformulae.com, (FIA Formula E, 27/05/2015), http://fiaformulae.com/en/news/2015/may/justin-wilson-to-race-for-andretti-in-moscow.aspx, (Accessed 02/06/2015)
↑ 'De Silvestro to race in Visa London ePrix', fiaformulae.com, (FIA Formula E, 14/06/2015), http://www.fiaformulae.com/en/news/2015/june/de-silvestro-to-race-in-london-eprix.aspx, (Accessed 14/06/2015)
↑ 'Bird hails 'unbelievable' end to season', fiaformulae.com, (FIA Formula E, 28/06/2015), http://fiaformulae.com/en/news/2015/june/bird-hails-unbelievable-end-to-season.aspx, (Accessed 30/06/2015)
↑ 'FIA homologates manufacturers for second Formula E season',fiaformulae.com, (FIA Formula E, 03/08/2015), http://fiaformulae.com/en/news/2015/august/fia-homologates-manufacturers-for-second-formula-e-season.aspx, (Accessed 03/08/2015)
↑ 'Vergne, de Silvestro named as Andretti Formula E drivers', motorsport.com, (Motorsport.com, 04/08/2015), http://www.motorsport.com/formula-e/news/vergne-de-silvestro-named-as-andretti-formula-e-drivers (Accessed 07/08/2015)
↑ Smith, Sam, 'Andretti scoops Amlin partnership for season two campaign', motorsport.com, (Motorsport, 06/08/2015), http://www.motorsport.com/formula-e/news/andretti-scoops-amlin-partnership-for-season-two-campaign/?v=11&s=1, (Accessed 07/08/2015)
↑ 'Alejandro Agag: Statement on the passing of Justin Wilson', fiaformulae.com, (FIA Formula E, 25/08/2015), http://fiaformulae.com/en/news/2015/august/alejandro-agag-statement-on-the-passing-of-justin-wilson.aspx, (Accessed 25/08/2015)
↑ 'Robin Frijns to race for Andretti', fiaformulae.com, (FIA Formula E, 17/09/2015),http://www.fiaformulae.com/en/news/2015/september/robin-frijns-to-race-for-andretti.aspx, (Accessed 17/09/2015)
↑ 'Di Grassi keeps his cool to win in Putrajaya', fiaformulae.com, (FIA Formula E, 07/11/2015), http://fiaformulae.com/en/news/2015/november/di-grassi-keeps-his-cool-to-win-in-putrajaya.aspx, (Accessed 22/11/2015)
↑ 'Di Grassi's Shoreline sensation', fiaformulae.com, (FIA Formula E, 02/04/2016), http://fiaformulae.com/en/news/2016/april/di-grassi-s-shoreline-sensation/, (Accessed 03/04/2016)
↑ 'ANDRETTI COMPLETES TRACK TESTING WITH NEW POWERTRAIN: ATEC-02 TO DEBUT IN 2016/17 SEASON', fiaformulae.com, (FIA Formula E, 15/06/2016), http://fiaformulae.com/en/news/2016/june/andretti-completes-track-testing-with-new-powertrain/, (Accessed 08/07/2016)
↑ 'ANTONIO FELIX DA COSTA TO JOIN ANDRETTI FORMULA E: FORMULA E RACE WINNER TO DRIVE ALONGSIDE ROBIN FRIJNS AT ANDRETTI', fiaformulae.com, (FIA Formula E, 10/08/2016), http://fiaformulae.com/en/news/2016/august/antonio-felix-da-costa-to-join-andretti-formula-e, (Accessed 10/08/2016)
↑ 'Season 4: official team & driver entry list confirmed', fiaformulae.com, (FIA Formula E, 03/11/2017), http://www.fiaformulae.com/en/news/2017/october/season-4-official-team-driver-entry-list-confirmed/, (Accessed 03/11/2017)
↑ 'Kobayashi to Join MS&AD Andretti for HKT Hong Kong E-Prix', fiaformulae.com, (FIA Formula E, 15/11/2017), http://www.fiaformulae.com/en/news/2017/november/kobayashi-to-join-msad-andretti-for-hkt-hong-kong-e-prix/, (Accessed 15/11/2017)
↑ 'Bird clinches victory in Hong Kong', fiaformulae.com, (FIA Formula E, 02/12/2017), http://www.fiaformulae.com/en/news/2017/december/bird-clinches-victory-in-hong-kong/, (Accessed 16/12/2017)
↑ 'Rosenqvist victorious in 2018 ABB FIA Formula E Marrakesh E-Prix', fiaformulae.com, (FIA Formula E, 13/01/2018), http://www.fiaformulae.com/en/news/2018/january/rosenqvist-victorious-in-2018-abb-fia-formula-e-marrakesh-e-prix/, (Accessed 13/01/2018)
↑ 'Formula E rookie test driver line-up revealed', fiaformulae.com, (FIA Formula E, 04/01/2018), http://www.fiaformulae.com/en/news/2018/january/formula-e-rookie-test-driver-line-up-revealed/, (Accessed 04/01/2018)
↑ 'Abt finally clinches first victory in Mexico City', fiaformulae.com, (FIA Formula E, 03/03/2018), http://www.fiaformulae.com/en/news/2018/march/abt-finally-clinches-first-victory-in-mexico-city/, (Accessed 04/03/2018)
↑ 'Stephane Sarrazin joins Andretti for the remainder of Season 4', fiaformulae.com, (FIA Formula E, 07/05/2018), http://www.fiaformulae.com/en/news/2018/april/stephane-sarrazin-joins-andretti-for-the-remainder-of-season-4/, (Accessed 07/05/2018)
↑ 'Di Grassi clinches first season victory in historic Swiss race', fiaformulae.com, (FIA Formula E, 10/06/2018), http://www.fiaformulae.com/en/news/2018/june/di-grassi-clinches-first-season-victory-in-historic-swiss-race/, (Accessed 11/06/2018)
↑ 'Di Grassi victorious as Vergne clinches championship crown', fiaformulae.com, (FIA Formula E, 14/07/2018), http://www.fiaformulae.com/en/news/2018/july/di-grassi-victorious-as-vergne-clinches-championship-crown/, (Accessed 15/07/2018)
↑ 'Champion Vergne victorious as Audi scoops the teams' title in New York finale', fiaformulae.com, (FIA Formula E, 15/07/2018), http://www.fiaformulae.com/en/news/2018/july/champion-vergne-victorious-as-audi-scoops-the-teams-title-in-new-york-finale/, (Accessed 16/07/2018)
↑ Horatiu Boeriu, 'BMW iFE.18 – The Future BMW Formula E Race Car', bmwblog.com, (Bayerische Motorenwerke A.G., 10/04/2018),http://www.bmwblog.com/2018/04/10/bmw-ife-18-the-future-bmw-formula-e-race-car/#jp-carousel-undefined, (Accessed 11/04/2018)
↑ 'BMW fastest again with da Costa toping the timesheets', fiaformulae.com, (FIA Formula E, 17/10/2018), http://www.fiaformulae.com/en/news/2018/october/bmw-fastest-again-with-da-costa-toping-the-timesheets/, (Accessed 19/10/2018)
↑ 34.0 34.1 34.2 'Race Report: Da Costa - 'We did it baby, we're back!', fiaformulae.com, (FIA Formula E, 15/12/2018), https://www.fiaformulae.com/en/news/2018/december/race-report-saudi, (Accessed 15/12/2018)
↑ 35.0 35.1 35.2 'Mahindra's d'Ambrosio made up with manic win in Marrakesh', fiaformulae.com, (FIA Formula E, 12/01/2019), https://www.fiaformulae.com/en/news/2019/january/race-report---2019-marrakesh, (Accessed 12/01/2019)
↑ 'Bird storms to victory in sweltering Santiago showdown', fiaformulae.com, (FIA Formula E, 26/01/2019), https://www.fiaformulae.com/en/news/2019/january/race-report-santiago-2019, (Accessed 27/01/2019)
↑ 'Madness in Mexico sees di Grassi clinch miraculous win in epic photo finish', fiaformulae.com, (FIA Formula E, 16/02/2019), https://www.fiaformulae.com/en/news/2019/february/race-report-mexico-2019, (Accessed 17/02/2019)
↑ 'Emotional maiden win for Evans in Rome, Lotterer second', fiaformulae.com, (FIA Formula E, 13/04/2019), https://www.fiaformulae.com/en/news/2019/april/race-report-rome-2019, (Accessed 13/04/2019)
↑ Jake Kilshaw, 'Da Costa, Abt Penalized After Monaco E-Prix', e-racing365.com, (John Dagys Media, LLC., 11/05/2019), https://e-racing365.com/formula-e/da-costa-abt-penalized-after-monaco-e-prix/, (Accessed 12/05/2019)
↑ 'Di Grassi victorious in the battle for Berlin, home race victory for Audi', fiaformulae.com, (FIA Formula E, 25/05/2019), https://www.fiaformulae.com/en/news/2019/may/race-report-berlin-2019, (Accessed 25/05/2019)
↑ 'Vergne victorious in frantic battle for Bern ahead of Championship finale', fiaformulae.com, (FIA Formula E, 22/06/2019), https://www.fiaformulae.com/en/news/2019/june/race-report-bern-2019, (Accessed 23/06/2019)
↑ 'Buemi wins in New York but disaster for Champ Vergne extends title challenge', fiaformulae.com, (FIA Formula E, 13/07/2019), https://www.fiaformulae.com/en/news/2019/july/race-report-nyc-2019, (Accessed 14/07/2019)
↑ Sam Smith, 'FORMULA E: Da Costa and BMW Split; DS Techeetah Deal Imminent', e-racing365.com, (John Dagys Media, LLC., 06/08/2019), https://e-racing365.com/formula-e/da-costa-and-bmw-split-ds-techeetah-deal-imminent/, (Accessed 06/08/2019)
↑ 44.0 44.1 'BREAKING: Guenther secures BMW drive while Da Costa parts ways', fiaformulae.com, (FIA Formula E, 09/09/2019), https://www.fiaformulae.com/en/news/2019/september/guenther-joins-bmw-as-da-costa-parts-ways, (Accessed 09/09/2019)
↑ Sam Smith, 'Formula E: Guenther Sets Fastest Lap of Valencia Testing', e-racing365.com, (John Dagys Media, LLC., 18/10/2019), https://e-racing365.com/formula-e/guenther-sets-fastest-lap-of-valencia-testing/, (Accessed 22/10/2019)
↑ 46.0 46.1 '11 teams set to compete in fifth season Formula E', fiaformulae.com, (FIA Formula E, 28/08/2018), http://www.fiaformulae.com/en/news/2018/august/11-teams-set-to-compete-in-fifth-season-formula-e/, (Accessed 28/08/2018)
↑ 'Sims to remain with BMW i Andretti Motorsport for 2019/20 campaign', fiaformulae.com, (FIA Formula E, 09/10/2019), https://www.fiaformulae.com/en/news/2019/october/sims-to-race-for-bmw-in-2019-20-season, (Accessed 09/10/2019)
↑ @FIA Formula E, 'Kamui races with a Monaco racing licence', twitter.com, (Twitter: ABB FIA Formula E Championship, 23/11/2017), https://twitter.com/FIAFormulaE/status/933733450443608064, (Accessed 19/07/2018)