Audi A.G.
Background
Based
Ingolstadt, Germany
Founded
1 January 1969[1]
Founder
Unknown
Key People
Unknown
Industry
Car manufacturer
Formula E Record
Début
2017 Hong Kong ePrix I
Total Entries
25 (25 Starts)
Wins
Poles

FLs

9
2
15
Total Points
467 (658)
Former Team(s)
Unknown
Current Season
Team(s)
Audi Sport ABT Schaeffler
Envision Virgin Racing
Car
Audi e-tron FE05
Audi A.G.
 (historically founded in Zwickau, Germany on 25 April 1910) is a German car manufacturer and automotive group, famed for its involvement in motorsport through its 
Audi Sport
 line.
[1]
Originally formed as Auto Union in 1932, 
Audi
has been part of the Volkswagen group since the mid-1960s, and has since become a worldwide brand  in the luxury and saloon car markets.
[1]
Audi have been involved in the FIA Formula E Championship since its inaugural 2014/15 season, having partnered themselves with long-term customers ABT Sportsline.[2] The German manufacturer would go on to partner Schaeffler during the 2015/16 season, before taking over the ABT Schaeffler effort from 2017/18 onward.[3]
The 2017/18 season would see Audi's factory team win the Teams' Championship, overcoming a poor start to the season to beat the Renault powered Techeetah team by two points.[4] For 2018/19 Audi expanded their FE commitment to supply a customer team as well as their factory squad, with Virgin Racing signing up to use the powertrain developed for the Spark SRT05e.[5]
Background
The Audi group can trace its roots back to 1885, with the establishment of the Wanderer and NSU works, the latter of which would supply chassis to Daimler.[1] August Horch, whose last name translated into Latin results in Audi, would found A. Horch & Cie. in Cologne in 1898, although by 1909 he had set up shop as August Horch Automobilwerke GmbH in Zwickau, Saxony.[1] After a legal battle with former investors, Horch changed the name to Audi Automobilwerke GmbH Zwickau, which began trading on the 25th April 1910.[1]
The "Auto Union"
In 1928 DKW owner Jørgen Rasmussen would acquire a majority share in Audiwerke A.G. (the 1915 name for Horch's latest effort), along with the old Wanderer firm.[1] From this he forged the Auto Union A.G., whose first success, the Audi Front, would incorporate elements from each groups designs.[1] The group would soon make a name for itself in pre-war Grand Prix racing, with all of the racing efforts badged with the four rings of Audi.[1]
The Audi name itself would disappear in 1939, with the other manufacturers in the group, most notably DKW, continuing to use their own names and logos.[1] The group would go on to suffer badly during the Second World War, its factories bombed by the R.A.F. having been converted for military use.[1] They would fare little better at the end of the war, losing the majority of their efforts to the Soviet Union in East Germany, including the headquarters in Zwickau.[1]
Ingolstadt Industry
Auto Union's post-war misery was ended by the creation of a new HQ in Ingolstadt, Bavaria, funded by the Bavarian state and the Marshall Plan, with DKW becoming the lead brand.[1] In order to pay of its loans, Auto Union would begin to sell off shares, and by 1964 Volkswagen had emerged with a 50% holding, and the Audi and DKW brands, while Daimler-Benz controlled most of the rest.[1] Eighteen months later and Volkswagen effectively gained control of Auto Union altogether, constructing a new factory in Ingolstadt before relaunching the Audi name in 1965, replacing DKW.[1]
Hearing a new era
On the 1st of January 1969 the Audi NSU Auto Union AG was launched by Volkswagen, with Audi emerging as the flagship brand from the new group.[1] Audi quickly became the conservative image for the group, although by the late 1970s a desire for experimentation had emerged.[1] In 1980 these experiments, focused on four-wheel-drive, resulted in the Audi Quattro, which go on to dominate the world of rallying, putting Audi back on the motorsport map.[1]
The group name was shortened in 1985 to simply Audi A.G. as a result of Audi's success, the Auto Union and NSU names simply not used.[1] The Quattro, meanwhile, had heralded a new phase for Audi, with the firm constructing large saloon cars, at the expense of its racing and rallying programmes.[1] By the late 1990s, Audi would be searching for sporting success once again.
Diesels and DTM
Audi's motorsports exploits had mainly been focused in touring cars during the 1990s, although their opinion of the sport changed in 1998 when the FIA banned four wheel drive cars from competing.[1] Audi would not back a factory touring car effort until 2004, taking over a team in the recreated DTM series, instead choosing to focus on a new area of motorsport entirely.[1] Indeed, all of Audi's motorsport facilities would be turned to achieve one single goal from 1998: Le Mans.
Audi debuted two new Prototypes in the 1999 edition of Le Mans, the better design, the R8R claiming a podium, with Audi choosing to develop that over their closed cockpit variant.[1] From 2000 onwards the Ingolstadt squad, working with German based Joest Racing, would dominate Le Mans winning every race bar one between 2000 and 2005 with the R8.[1] Furthermore, the only race in which Audi did not win, 2003, would be won by a Bentley, using an Audi engine and Audi/Joest drivers.[1]
2006 would arguably be Audi's biggest triumph, with their new diesel racing car, the R10 TDI, becoming the first diesel to win the 24 Hours of Le Mans.[1] The R10 would win the following two races before being replaced by the R15 TDI Plus, which would claim a distance record on its way to victory in the 2010 race.[1]
Hybrids and Electrics
Le Mans success had become one of Audi's staple advertising points by the end of the 2010s, meaning the group had confidence to bring out their first hybrid racing car, the R18 e-tron Quattro.[1] Like its predecessors, the R18 e-tron would make history on its Le Mans debut, becoming the first hybrid to win the race, and the first to win with four wheel drive in 2012.[1] The R18 e-tron would go on to win the inaugural World Endurance Championship at the end of the 2012 season.[1]
The R18 continued to claim WEC victories through to 2016, when Audi shocked the motorsport world by announcing their withdrawal from the WEC.[1] Its sportscar programme was to be replaced by a full-factory effort in Formula E, a result of the 2015 Volkswagen Emissions Scandal which all but ended the reign of the diesel engine.[1]
Formula E History
Audi would enter Formula E in time for the inaugural 2014/15 season, partnering with long-term customers ABT Sportsline to form Audi Sport ABT.[2] The partnership would see Lucas di Grassi make history as the first ever winner of an ePrix in Beijing, although with standardised cars, there was little Audi could do to affect things.[6] Di Grassi would go on to challenge for the title at the end of the season, but ultimately fell short.
Schaeffler Success
Schaeffler, a German component manufacturer with whom Audi had worked before, were drafted in to design a new powertrain for the 2015/16 season, with Audi providing limited support and funding.[7] That partnership would continue into 2016/17, with di Grassi ultimately winning the title at the Montreal ePrix at the end of the season.[8] Audi, meanwhile, had announced that they were taking over the effort full time, and duly took over the effort at the end of the season.[3]
Audi Adaptation
Audi continued to use suppliers Schaeffler as a technical partner, with the team renamed to Audi Sport ABT Schaeffler for the 2017/18 season.[9] The German firm would also relaunch their e-tron brand with the launch of their first Formula E car, while retaining the ABT Sportsline personnel.[9]
Products
Audi have been indirectly involved with two previous Formula E entries by Schaeffler, providing some technical support. However, from 2017/18 Audi will supply their own team with cars, working alongside Schaeffler for the time being.
Audi e-tron FE04
Main Article: Audi e-tron FE04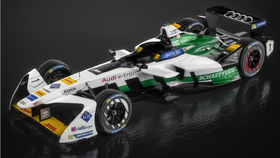 Audi unveiled the first in-house Formula E entry, the
e-tron FE04
at their 2017/18 season launch, held on the 27th September 2017.
[9]
The use of the e-tron brand was effectively a relaunch of their old
World Endurance Championship
programme, which had been sacrificed so that Audi could launch a full factory Formula E effort in 2017.
[3]
References
Videos and Images:
References:
↑ 1.00 1.01 1.02 1.03 1.04 1.05 1.06 1.07 1.08 1.09 1.10 1.11 1.12 1.13 1.14 1.15 1.16 1.17 1.18 1.19 1.20 1.21 1.22 1.23 1.24 1.25 1.26 1.27 1.28 1.29 1.30 1.31 'Audi', wikipedia.org, (WikiMedia, 27/09/2017), https://en.wikipedia.org/wiki/Audi, (Accessed 28/09/2017)
↑ 2.0 2.1 'ABT Sportsline unveils Formula E driver line-up with Lucas di Grassi & Daniel Abt', fiaformulae.com, (FIA Formula E, 13/02/2014), http://www.fiaformulae.com/en/news/2014/february/abt-sportsline-unveils-formula-e-driver-line-up-with-lucas-di-grassi-daniel-abt.aspx, (Accessed 30/04/2015)
↑ 3.0 3.1 3.2 'ABT retains drivers for season three', fiaformulae.com, (FIA Formula E, 20/05/2016), http://fiaformulae.com/en/news/2016/may/abt-retains-drivers-for-season-three/, (Accessed 20/05/2016)
↑ 'Champion Vergne victorious as Audi scoops the teams' title in New York finale', fiaformulae.com, (FIA Formula E, 15/07/2018), http://www.fiaformulae.com/en/news/2018/july/champion-vergne-victorious-as-audi-scoops-the-teams-title-in-new-york-finale/, (Accessed 16/07/2018)
↑ 'Virgin Racing to run Audi e-tron FE05 cars for Season 5', fiaformulae.com, (FIA Formula E, 21/09/2018), http://www.fiaformulae.com/en/news/2018/september/virgin-racing-to-run-audi-e-tron-fe05-cars-for-season-5/, (Accessed 21/09/2018)
↑ 'Lucas di Grassi snatches win after dramatic last corner crash', fiaformulae.com, (FIA Formula E, 13/09/2014), http://www.fiaformulae.com/en/news/2014/september/lucas-di-grassi-snatches-win-after-dramatic-last-corner-crash.aspx, (Accessed 30/04/2015)
↑ 'ABT continues development on next year's car', fiaformulae.com, (FIA Formula E, 09/07/2015), http://fiaformulae.com/en/news/2015/july/abt-continues-development-on-next-year-s-car.aspx, (Accessed 19/07/2015)
↑ 'Vergne victorious, Di Grassi wins title', fiaformulae.com, (FIA Formula E, 30/07/2017), http://www.fiaformulae.com/en/news/2017/july/vergne-victorious-di-grassi-wins-title/, (Accessed 30/07/2017)
↑ 9.0 9.1 9.2 'Audi unveils e-tron FE04', fiaformulae.com, (FIA Formula E, 27/09/2017), http://www.fiaformulae.com/en/news/2017/september/audi-unveils-e-tron-fe04/, (Accessed 27/09/2017)
Community content is available under
CC-BY-SA
unless otherwise noted.