Jurassic World: Dominion Dominates Fandom Wikis - The Loop
Play Sound
Bern Street Circuit
Circuit Details
Name
Bern Street Circuit
Location
Bern, Bern-Mittelland, Switzerland
Length
2.750 km (1.709 mi)
Corners
14
First Race
Unknown
Last Race
unknown
Only Race
2019 Swiss E-Prix
Circuit Records
Fastest Lap
Qualifying
Wins
1:21.905
1:18.813
1
Sam Bird
Jean-Éric Vergne
Jean-Éric Vergne
The Bern Street Circuit is a temporary street circuit located in Bern, Bern-Mittelland, Switzerland, that played host to the Swiss E-Prix, a round of the ABB FIA Formula E Championship.[1][2] First used to host the 2019 Swiss E-Prix, the Bern Street Circuit joined the 2018/19 calendar after the Zürich Street Circuit was unable to be used.[1]
Formula E History
Bern was first chosen to host an ABB FIA Formula E Championship race ahead of the 2018/19 season, after Zürich announced that it was unable to host an E-Prix for a second season.[1] The Bern Street Circuit was subsequently designed in the old city, racing around the bear park on the northern/eastern banks of the river Aade.[2] The name of the event was formally announced as the Swiss E-Prix after the Bern circuit was revealed, with Swiss financiers Julius Bär named as title sponsors for the 2019 Swiss E-Prix.[1]
Circuit History
The Bern Street Circuit hosted the inaugural Swiss E-Prix on 22 June 2019, albeit with some controversy after a first lap accident at the final chicane caused chaos.[3]
Circuit Layout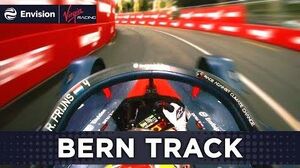 A lap of the Bern Street Circuit opens with a curved braking zone into turn one, a left hand hairpin, followed by a down-hill sweep forms turn two.[4] The field then continue to weave their way down-hill before entering turn three, a long apex right that ends as the braking zone for turn four, a left-hand hairpin.[4] Turn four exits into turn five, a 90° right, before the field continue their down-hill plunge towards turn six.[4]
Turn six appears as another long apex left, requiring a brief hit of the brakes, before opening out into a slight up hill straight.[4] Turns seven and eight follow as an elongated left-right chicane, followed by another uphill straight, which features the Attack Mode activation point midway along.[4] From there the field hit the brakes for turns nine and ten, a left-right chicane, swiftly followed by turn eleven a sharp left.[4]
The exit of turn eleven brings the field onto the long, uphill, starting straight, with a slight curve two thirds of the way along.[4] The lap is then completed by a three element chicane, a right-left-right combination, which brings the field back onto the finishing straight.[4] Pit-in is located on the exit of the final chicane, while it-out appears on the outside of turn one.[4]
Records
A full list of records for the Bern Street Circuit are outlined below, including a list of race winners.
Winners
Below is a list of all of the winners of ePrix held at the Bern Street Circuit:
Race-by-Race Records
The race-by-race records for the Bern Street Circuit are outlined below:
Bern Street Circuit Race-by-Race Records
Event
Qualifying
Fastest Lap
Winner
Driver
Time
Driver
Time
Driver
Time
2019 Julius Baer Swiss E-Prix
Jean-Éric Vergne
1:18.813
Sam Bird
1:21.905
Jean-Éric Vergne
1:25:26.873
References
Videos and Images:
References:
↑ 1.0 1.1 1.2 1.3 1.4 'Bern completes the calendar for Season 5 of Formula E', fiaformulae.com, (FIA Formula E, 12/10/2018), http://www.fiaformulae.com/en/news/2018/october/bern-completes-the-calendar-for-season-5-of-formula-e/, (Accessed 12/10/2018)
↑ 2.0 2.1 'The Swiss E-Prix 2019 race track in Bern', swisseprix.com, (Swiss ePrix Operations AG, 2019), https://www.swisseprix.com/festivalguide/race/?lang=en, (Accessed 22/06/2019)
↑ 3.0 3.1 'Vergne victorious in frantic battle for Bern ahead of Championship finale', fiaformulae.com, (FIA Formula E, 22/06/2019), https://www.fiaformulae.com/en/news/2019/june/race-report-bern-2019, (Accessed 23/06/2019)
FIA

Formula E Championship

Circuits
2020/21

Circuits
Ad Diriyah Street Circuit •

Circuito Cittadino dell'EUR •

Circuit Ricardo Tormo •

Circuit de Monaco •

Autódromo Miguel E. Abed •
Brooklyn Street Circuit •
ExCeL E-Prix Circuit •

Tempelhofring
Former Circuits: Africa/Europe
Battersea Park Street Circuit •

Bern Street Circuit •

Circuit des Invalides •
Circuit Moulay El Hassan •

Karl-Marx-Allee Circuit •

Zürich Street Circuit
Former Circuits: Asia

Beijing Olympic Green Circuit •

Haitang Bay Circuit •

Hong Kong Harbourfront Circuit •

Moscow Street Circuit •

Putrajaya Street Circuit
Former Circuits: North America

Autódromo Hermanos Rodríguez •
Biscayne Bay Street Circuit •
Long Beach Street Circuit •

Montréal Street Circuit
Former Circuits: South America

Forestal Park Circuit •

Parque O'Higgins Circuit •

Playa Brava Beach Circuit •

Puerto Madero Circuit
Planned Circuits

Jakarta Street Circuit •
Seoul Street Circuit
Testing Venues

Circuit Ricardo Tormo •
Donington Park
FIA
Formula E Championship
E-Prix
2020/21

E-Prix

Diriyah E-Prix
•

Rome E-Prix

•

Valencia E-Prix

•

Monaco E-Prix

•

Puebla E-Prix

•
New York City E-Prix
•

London E-Prix
•

Berlin E-Prix

Former E-Prix: Africa/Europe
Marrakesh E-Prix
•

Paris E-Prix

•

Swiss E-Prix

•

Zürich E-Prix

Former E-Prix: Asia

Beijing ePrix

•
Hong Kong E-Prix

•

Moscow ePrix

•

Putrajaya ePrix

•

Sanya E-Prix

Former E-Prix: North America

Long Beach ePrix
•
Mexico City E-Prix

•

Miami ePrix
•

Montreal ePrix

Former E-Prix: South America
Buenos Aires ePrix

•

Punta del Este E-Prix

•

Santiago E-Prix

Planned E-Prix

Jakarta E-Prix

•

Seoul E-Prix