Jurassic World: Dominion Dominates Fandom Wikis - The Loop
Play Sound
The Circuito Cittadino dell'EUR is a temporary street circuit located in the Esposizione Universale Roma district of the Italian capital of Rome, Italy.[1] Created for the 2018 Rome E-Prix, the Circuito has hosted two rounds of the ABB FIA Formula E Championship, and will return for the 2019/20 season.[2]
Formula E History
Rome was originally suggested as a host for the Formula E Championship as early as the inaugural season, although it would not appear on any calendar until the 2017/18 season calendar was released.[3] The location of the first Rome ePrix was later revealed to be in the Esposizione Universale Roma (EUR) district, just a few miles from the infamous Colosseum.[1]
After the cancellation of the 2019/20 edition of the Rome E-Prix, Formula E Holdings and the Rome E-Prix organisers signed a five-year deal to keep the race on the calendar.[4]
Circuit History
The Circuito Cittadino dell'EUR was created to host the Rome ePrix in 2018 to host the first Rome E-Prix, and has remained unchanged through to the 2019/20 season.
Circuit Layouts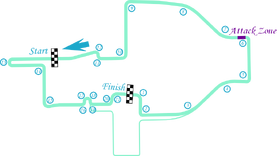 A lap of the Circuito opens with a tight 90° right, followed by a 90° left hander.[5] The field then begin to sweep down-hill through turns three and four, before heavy braking into the 90° left of turn five.[5] A short straight follows before another 90° left forms turn six, with the Attack Mode activation zone found on the exit, on the inside of the circuit.[5]
The field then begin to climb back up hill, with turns seven and eight a mirror of turns four and three respectively.[5] A bump and crest then heralds the arrival of turn nine, a 90° left, before a short straight carries the field into the 90° right of turn ten.[5] Another short blast follows ahead of the turn eleven/twelve chicane, a right-left combination, before the field sweep onto the starting straight next to the Palazzo dei Congressi.[5]
The field then complete a left handed hairpin at turn thirteen, before a 90° right to exit the Palazzo forms turn fourteen.[5] A short straight heralds the arrival of turn fifteen, a 90° left, before a series of chicanes carries the field back to the finish/timing line.[5] Turns sixteen through nineteen form the tighter chicane, with pit-in on the exit of turn nineteen, before the turn 20/21 combination completes the lap.[5]
2021 Update
For the 2021 Rome E-Prix the EUR circuit was heavily revised, with an overall extension to the circuit making the EUR circuit the second longest in FE history.[6]
Records
A full list of records for the Circuito Cittadino dell'EUR are outlined below, including a list of race winners.
Winners
Below is a list of all of the winners of E-Prix held at the Circuito Cittadino dell'EUR:
Race-by-Race Records
The race-by-race records for the Circuito Cittadino dell'EUR are outlined below:
References
Videos and Images:
References:
↑ 1.0 1.1 1.2 'Formula E ready for Rome', fiaformulae.com, (FIA Formula E, 19/10/2017), http://www.fiaformulae.com/en/news/2017/october/formula-e-ready-for-rome/, (Accessed 19/10/2017)
↑ 2.0 2.1 '2019/20 calendar revealed: London and Seoul star in sixth Formula E campaign', fiaformulae.com, (FIA Formula E, 14/06/2019), https://www.fiaformulae.com/en/news/2019/june/2019-20-season-calendar-revealed, (Accessed 14/06/2019)
↑ 'More compact Season 4 calendar revealed', fiaformulae.com, (FIA Formula E, 19/06/2017), http://www.fiaformulae.com/en/news/2017/june/more-compact-season-4-calendar-revealed/, (Accessed 19/06/2017)
↑ 'Formula E set to race in Rome for a further five seasons', fiaformulae.com, (FIA Formula E, 24/04/2020), https://www.fiaformulae.com/en/news/2020/april/rome-eprix-extended-five-years, (Accessed 28/04/2020)
↑ 5.0 5.1 5.2 5.3 5.4 5.5 5.6 5.7 5.8 Cite error: Invalid <ref> tag; no text was provided for refs named FIA
↑ Matt Kew, 'Formula E unveils new track layout for Rome E-Prix', motorsport.com, (Motorsport Network, 03/02/2021), https://www.motorsport.com/formula-e/news/rome-new-longer-layout-revealed/5315357/, (Accessed 05/03/2021)
↑ Sam Smith, 'CBMM to Sponsor Rome, Punta del Este Races', e-racing365.com, (John Dagys Media, LLC., 07/02/2018), http://e-racing365.com/formula-e/cbmm-niobium-to-spoinsor-rome-and-punta-del-este-races/, (Accessed 09/02/2018)
↑ 'Bird claims historic victory in Rome', fiaformulae.com, (FIA Formula E, 14/04/2018), http://www.fiaformulae.com/en/news/2018/april/bird-claims-historic-victory-in-rome/, (Accessed 14/04/2018)
↑ 'Geox takes title sponsor for Rome race on April 13', fiaformulae.com, (FIA Formula E, 04/04/2019), https://www.fiaformulae.com/en/news/2019/april/geox-takes-title-sponsor-for-rome, (Accessed 07/04/2019)
↑ 'ABB FIA Formula E Championship Season 5', info.fiaformulae.com, (FIA Formula E, 07/06/2018), http://info.fiaformulae.com/season-5-calendar/, (Accessed 07/06/2018)
↑ 'Emotional maiden win for Evans in Rome, Lotterer second', fiaformulae.com, (FIA Formula E, 13/04/2019), https://www.fiaformulae.com/en/news/2019/april/race-report-rome-2019, (Accessed 13/04/2019)
↑ Cite error: Invalid <ref> tag; no text was provided for refs named Rom19Can
↑ 'FIA publishes provisional 2020/21 Formula E calendar', fiaformulae.com, (FIA Formula E, 19/06/2020), https://www.fiaformulae.com/en/news/2020/june/2021-race-calendar, (Accessed 19/06/2020)
↑ 'Jean-Eric Vergne conquers frenetic Rome E-Prix Round 3', fiaformulae.com, (FIA Formula E, 10/04/2021), https://www.fiaformulae.com/en/news/2021/april/rome-e-prix-round-3-report-jean-eric-vergne-winner, (Accessed 10/04/2021)
↑ 'CALENDAR UPDATE: 2020/21 ABB FIA Formula E World Championship, fiaformulae.com, (FIA Formula E, 26/03/2021), https://www.fiaformulae.com/en/news/2021/march/season-7-calendar-update, (Accessed 27/03/2021)
↑ 'Redemption for Stoffel Vandoorne in Rome as Mercedes driver seals Round 4 victory', fiaformulae.com, (FIA Formula E, 11/04/2021), https://www.fiaformulae.com/en/news/2021/april/rome-e-prix-round-4-report, (Accessed 11/04/2021)
↑ 'SEASON 8 CALENDAR: Cape Town, Vancouver and Seoul feature on most expansive Formula E schedule yet', fiaformulae.com, (FIA Formula E, 08/07/2021), https://www.fiaformulae.com/en/news/2021/july/season-8-calendar-announcement, (Accessed 08/07/2021)
↑ 'RACE REPORT: EVANS STORMS TO VICTORY ON THE STREETS OF ROME', fiaformula2.com, (FIA Formula 2, 09/04/2022), https://www.fiaformulae.com/en/news/2022/april/race-report-rome-round-four, (Accessed 10/04/2022)
↑ 'UPDATED SEASON 8 CALENDAR AND SPORTING REGULATIONS RATIFIED', fiaformulae.com, (FIA Formula E, 15/12/2021), https://www.fiaformulae.com/en/news/2021/december/fia-world-motorsport-council-calendar-update, (Accessed 15/12/2021)
↑ 'RACE REPORT: EVANS ROUNDS OFF ROME WEEKEND WITH HISTORIC DOUBLE VICTORY', fiaformulae.com, (FIA Formula E, 10/04/2022), https://www.fiaformulae.com/en/news/2022/april/rome-race-2-report, (Accessed 10/04/2022)
FIA

Formula E Championship

Circuits
2020/21

Circuits
Ad Diriyah Street Circuit •

Circuito Cittadino dell'EUR •

Circuit Ricardo Tormo •

Circuit de Monaco •

Autódromo Miguel E. Abed •
Brooklyn Street Circuit •
ExCeL E-Prix Circuit •

Tempelhofring
Former Circuits: Africa/Europe
Battersea Park Street Circuit •

Bern Street Circuit •

Circuit des Invalides •
Circuit Moulay El Hassan •

Karl-Marx-Allee Circuit •

Zürich Street Circuit
Former Circuits: Asia

Beijing Olympic Green Circuit •

Haitang Bay Circuit •

Hong Kong Harbourfront Circuit •

Moscow Street Circuit •

Putrajaya Street Circuit
Former Circuits: North America

Autódromo Hermanos Rodríguez •
Biscayne Bay Street Circuit •
Long Beach Street Circuit •

Montréal Street Circuit
Former Circuits: South America

Forestal Park Circuit •

Parque O'Higgins Circuit •

Playa Brava Beach Circuit •

Puerto Madero Circuit
Planned Circuits

Jakarta Street Circuit •
Seoul Street Circuit
Testing Venues

Circuit Ricardo Tormo •
Donington Park
FIA
Formula E Championship
E-Prix
2020/21

E-Prix

Diriyah E-Prix
•

Rome E-Prix

•

Valencia E-Prix

•

Monaco E-Prix

•

Puebla E-Prix

•
New York City E-Prix
•

London E-Prix
•

Berlin E-Prix

Former E-Prix: Africa/Europe
Marrakesh E-Prix
•

Paris E-Prix

•

Swiss E-Prix

•

Zürich E-Prix

Former E-Prix: Asia

Beijing ePrix

•
Hong Kong E-Prix

•

Moscow ePrix

•

Putrajaya ePrix

•

Sanya E-Prix

Former E-Prix: North America

Long Beach ePrix
•
Mexico City E-Prix

•

Miami ePrix
•

Montreal ePrix

Former E-Prix: South America
Buenos Aires ePrix

•

Punta del Este E-Prix

•

Santiago E-Prix

Planned E-Prix

Jakarta E-Prix

•

Seoul E-Prix