Jurassic World: Dominion Dominates Fandom Wikis - The Loop
Play Sound
The Hong Kong Central Harbourfront Circuit is a temporary street circuit used to host the Hong Kong E-Prix, a round of the ABB FIA Formula E Championship.[1] Based around the harbourfront in the city of Hong Kong, China, the Harbourfront Circuit was first used to host the 2016 Hong Kong ePrix on 9 October 2016, and has since become a regular fixture on the FE calendar.[2]
Formula E History
The Hong Kong ePrix was first proposed during the 2015/16 season, with a deal between city officials and Formula E Holdings announced at the 2016 London ePrix.[2] Hong Kong was listed as the opening round of the 2016/17 season, with the Harbourfront the first proposed site for the ePrix circuit.[2] The design was quickly formalised, with the circuit duly ready to host its first race, won by Sébastien Buemi, in 9 October 2016.[3]
The circuit subsequently hosted the opening two rounds of the 2017/18 season, before being moved to a mid-season Asian tour from 2018/19 onward.[4][5]
Circuit History
The Harbourfront Circuit has been largely unchanged since its inception, despite complaints about the first chicane, with the circuit incredibly narrow.[1] The pitlane design has also caused controversy, with Sam Bird able to retain the lead of the 2017 Hong Kong E-Prix I despite serving a drive-through penalty.[6]
Circuit Layout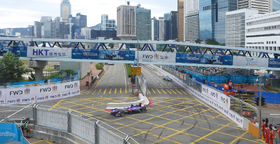 The Harbourfront Circuit featured ten corners, stitched together by 1.870km (1.156mi) of city streets which would take the field past a few major landmarks.[1] A tight first corner hairpin is followed by a half-kilometre dash to a narrow turn two right hander, before a chicane formed turns three and four.[1] A long run around a roundabout formed turn five, before a sprint down another street to turn six, with a similar dash, back along the other side of the same street to turn seven.[1]
Another 90° left would follow opposite the turn 3/4 chicane, with the pit entrance found on the outside of the 90° right hander of turn nine.[1] Turn ten followed as a long sweeping left hander to take the cars back onto the start/finish straight, with the pit exit just on the exit of the final corner.[1]
Records
A full list of records for the Hong Kong Harbourfront Circuit are outlined below, including a list of race winners.
Winners
Below is a list of all of the winners of ePrix held at the Hong Kong Harbourfront Circuit:
Race-by-Race Records
The race-by-race records for the Hong Kong Harbourfront Circuit are outlined below:
References
Videos and Images:
References:
↑ 1.0 1.1 1.2 1.3 1.4 1.5 1.6 'Drive the Future', hkformulae.com, (HK Eprix, 2016), http://www.hkformulae.com/, (Accessed 17/09/2016)
↑ 2.0 2.1 2.2 2.3 'From Hong Kong to New York: FIVE NEW CITIES FOR THIRD FORMULA E SEASON', fiaformulae.com, (FIA Formula E, 02/07/2016), http://fiaformulae.com/en/news/2016/july/from-hong-kong-to-new-york/, (Accessed 02/07/2016)
↑ Cite error: Invalid <ref> tag; no text was provided for refs named HNK16R
↑ 4.0 4.1 4.2 'More compact Season 4 calendar revealed', fiaformulae.com, (FIA Formula E, 19/06/2017), http://www.fiaformulae.com/en/news/2017/june/more-compact-season-4-calendar-revealed/, (Accessed 19/06/2017)
↑ 5.0 5.1 'ABB FIA Formula E Championship Season 5', info.fiaformulae.com, (FIA Formula E, 07/06/2018), http://info.fiaformulae.com/season-5-calendar/, (Accessed 07/06/2018)
↑ 'Bird clinches victory in Hong Kong', fiaformulae.com, (FIA Formula E, 02/12/2017), http://www.fiaformulae.com/en/news/2017/december/bird-clinches-victory-in-hong-kong/, (Accessed 16/12/2017)
↑ Jake Kilshaw, 'Mortara, Venturi Set for First Win as Bird Penalized', e-racing365.com, (John Dagys Media LLC., 10/03/2019), https://e-racing365.com/formula-e/mortara-venturi-set-for-first-win-as-bird-penalized/, (Accessed 10/03/2019)
↑ '2019/20 calendar revealed: London and Seoul star in sixth Formula E campaign', fiaformulae.com, (FIA Formula E, 14/06/2019), https://www.fiaformulae.com/en/news/2019/june/2019-20-season-calendar-revealed, (Accessed 14/06/2019)
↑ 'Final calendar revealed for season six of ABB FIA Formula E Championship', fiaformulae.com, (FIA Formula E, 04/10/2019), https://www.fiaformulae.com/en/news/2019/october/final-formula-e-season-six-calendar-revealed, (Accessed 04/10/2019)
FIA

Formula E Championship

Circuits
2020/21

Circuits
Ad Diriyah Street Circuit •

Circuito Cittadino dell'EUR •

Circuit Ricardo Tormo •

Circuit de Monaco •

Autódromo Miguel E. Abed •
Brooklyn Street Circuit •
ExCeL E-Prix Circuit •

Tempelhofring
Former Circuits: Africa/Europe
Battersea Park Street Circuit •

Bern Street Circuit •

Circuit des Invalides •
Circuit Moulay El Hassan •

Karl-Marx-Allee Circuit •

Zürich Street Circuit
Former Circuits: Asia

Beijing Olympic Green Circuit •

Haitang Bay Circuit •

Hong Kong Harbourfront Circuit •

Moscow Street Circuit •

Putrajaya Street Circuit
Former Circuits: North America

Autódromo Hermanos Rodríguez •
Biscayne Bay Street Circuit •
Long Beach Street Circuit •

Montréal Street Circuit
Former Circuits: South America

Forestal Park Circuit •

Parque O'Higgins Circuit •

Playa Brava Beach Circuit •

Puerto Madero Circuit
Planned Circuits

Jakarta Street Circuit •
Seoul Street Circuit
Testing Venues

Circuit Ricardo Tormo •
Donington Park
FIA
Formula E Championship
E-Prix
2020/21

E-Prix

Diriyah E-Prix
•

Rome E-Prix

•

Valencia E-Prix

•

Monaco E-Prix

•

Puebla E-Prix

•
New York City E-Prix
•

London E-Prix
•

Berlin E-Prix

Former E-Prix: Africa/Europe
Marrakesh E-Prix
•

Paris E-Prix

•

Swiss E-Prix

•

Zürich E-Prix

Former E-Prix: Asia

Beijing ePrix

•
Hong Kong E-Prix

•

Moscow ePrix

•

Putrajaya ePrix

•

Sanya E-Prix

Former E-Prix: North America

Long Beach ePrix
•
Mexico City E-Prix

•

Miami ePrix
•

Montreal ePrix

Former E-Prix: South America
Buenos Aires ePrix

•

Punta del Este E-Prix

•

Santiago E-Prix

Planned E-Prix

Jakarta E-Prix

•

Seoul E-Prix